Halsafjord Views from a Ferry Board
Halsa-Kanestraum ferry takes only 20 minutes, so hurry to the upper deck to admire the beauty of Halsaford.
Halsanaustan or simply Halsa, a small settlement on the banks of the fjord. Halsa is part of the commune (municipality) with the same name, but its "capital" is the town of Liabøen, located a dozen kilometers to the North-East, the population of the commune is a little more than a thousand inhabitants.
Next to the ferry pier is a dozen white houses, including a ferry office, a cafe and a post office.
The rest of the houses of Halsanaustan are scattered on a huge territory, among the green fields, as the population of the commune is mainly engaged in agriculture.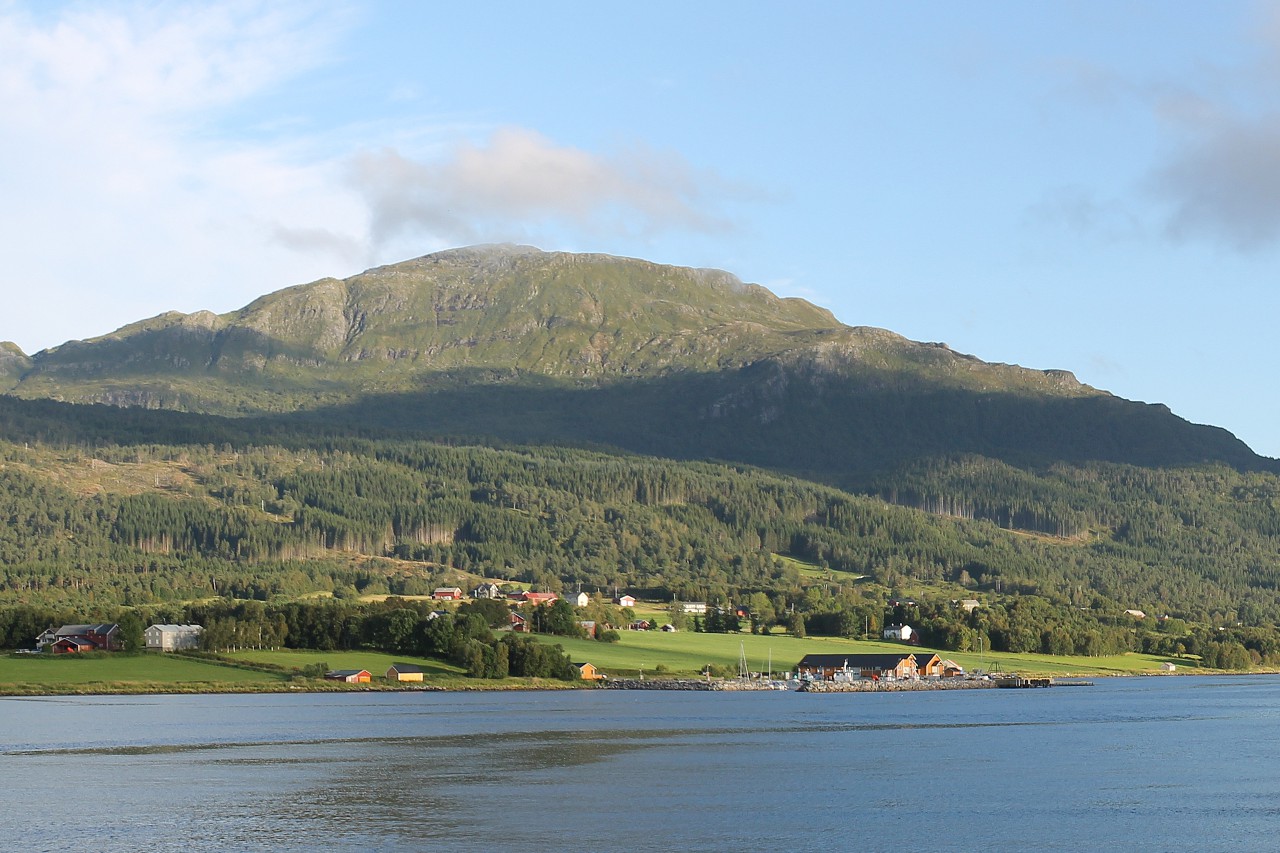 Three hundred meters South of the ferry pier you can see a small Harbor, protected by a pier of natural stone, part of the inhabitants engaged in marine fishing.
Another ferry, Førdefjord, sails from the South. To the left of the ferry you can see the fish farming cages.
I do not know where and fromwhere is going this ship, there is no other regular line here.
The width of Halsafjord from 1.5 to 3km, the ferry, by the way, runs along the widest part. The length of the fjord is 10 km, it stretches from the Tusna island to Trongfjord.
In the South, in the depths of the fjord, visible clouds wrapped the peaks of the mountain massif Trollheimen.
About ten minutes after departure, we meet the ferry from Kanestraum to Halsa.
The traffic is intense and ships run in the afternoon at intervals of 20 minutes.
If you look to the North, you will see the steep slopes of the mountains of the Tusna island, located at the mouth of the fjord.
And to his right, striking the top of the island Starblandet.
Another marine farm to the North of Kanestraum.
The weather was wonderful, Sunny and warm, tourists enjoy beautiful views and make memorable pictures on their background. In addition to these photos I made a few panoramas, you can see them here.
Our Estonian drivers and Marina guide use their free minutes for a fun conversation - they have seen these beauties more than once.
The ferry comes to the pier of the village of Kanestraum, on the move raising the bow ramp. Here we will continue our way along the E39 highway, to Molde we still have to cross several fjords, but through the bridges.