Trondheim. History and attractions
Trondheim, the capital of the fylke (province) of Sør-Trøndelag and the third largest city in Norway with a population of about 200 thousand inhabitants. Archaeologists have found that the first people settled between the mouth of the river Nidelva and Trondheim fjord in the fourth century BC. Ancient Norwegians were engaged in fishing and agriculture. The official date of Foundation of the city is 997, in 1997 it was widely celebrated its Millennium anniversary. Olav Tryggvason, great-grandson of the Creator of the Viking state Harold Fairhair, built his residence here, the church and established a place for trade. The settlement was named Nidaros, meaning "the mouth of the Nida river", grew rapidly and soon became the largest commercial and administrative center of Norway.
In 1000, Olav died at the battle of Svolder, was buried in Nidaros, and his grave became a national Shrine. In 1152, the episcopate was formed here and the city became the spiritual center of Norway, as even the images on the manholes say.
The name "Trondheim" the city received in 1508, named the surrounding land bore the name Trøndelag. Linguists see in this name the roots of old Norse words meaning "growth, prosperity, fertility". Indeed, the area is mostly flat and convenient for agricultural activities, unlike other regions where mountains and glaciers predominate. In the 14th and 15th centuries, trade gradually moved to more convenient Bergen, the city developed with varying success, periodically suffering from devastating fires. Now Trondheim is better known as a cultural and educational center, here is the Norwegian technical University and several colleges. The industry is represented by modern enterprises of transport equipment and means of communication, operates a commercial sea port.
And, of course, the city attracts many tourists-despite the fires, the largest wooden buildings in Scandinavia, several old churches, including the Nidaros Cathedral-the main temple of Norway, the summer residence of the Royal family and other architectural monuments.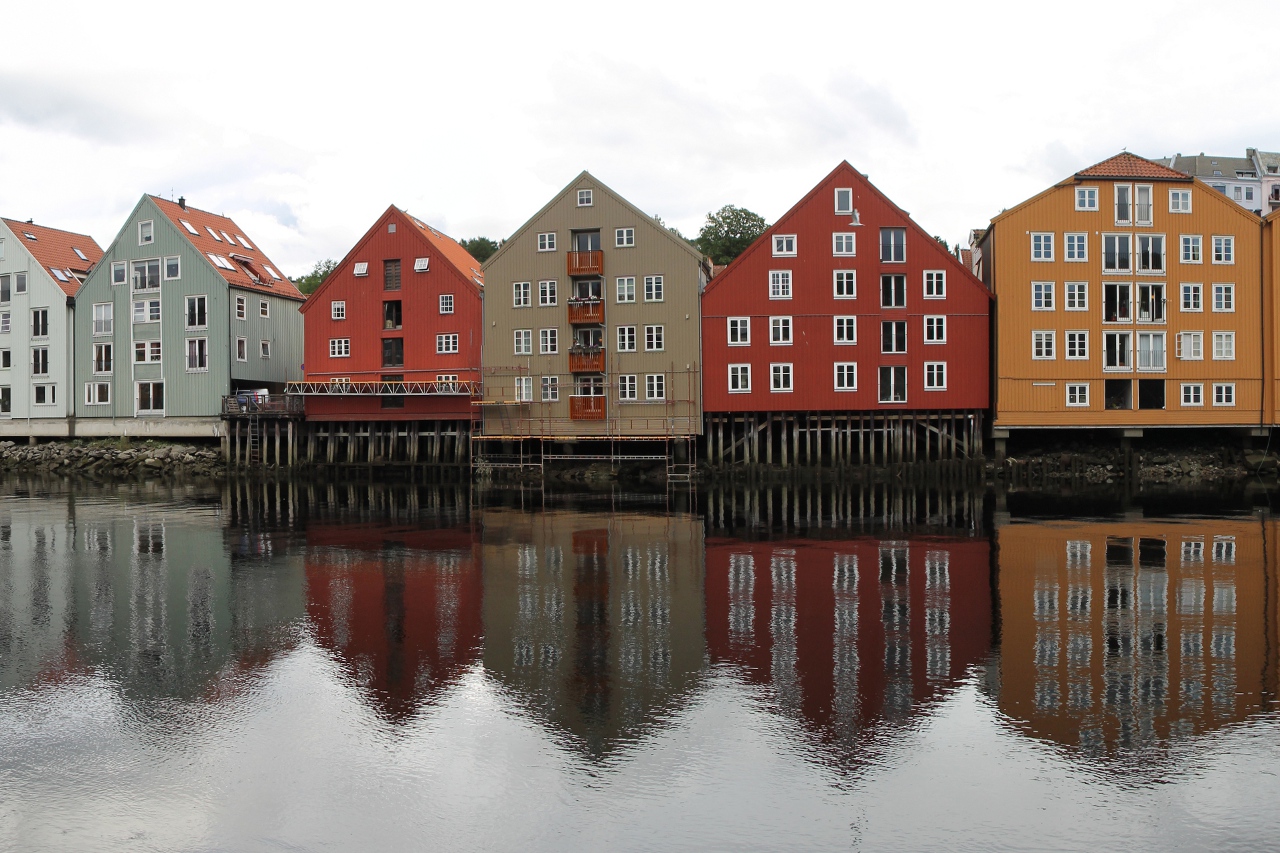 Walking route.