Vigeland Fountain (Fontenen)
In 1906, the Oslo city Council decided to build a fountain in the square in front of the Parliament. Gustav Vigeland presented a plaster model, but the construction was never started. Despite this, the sculptor continued to work, and over time, the fountain turned into a grand composition of 60 sculptures.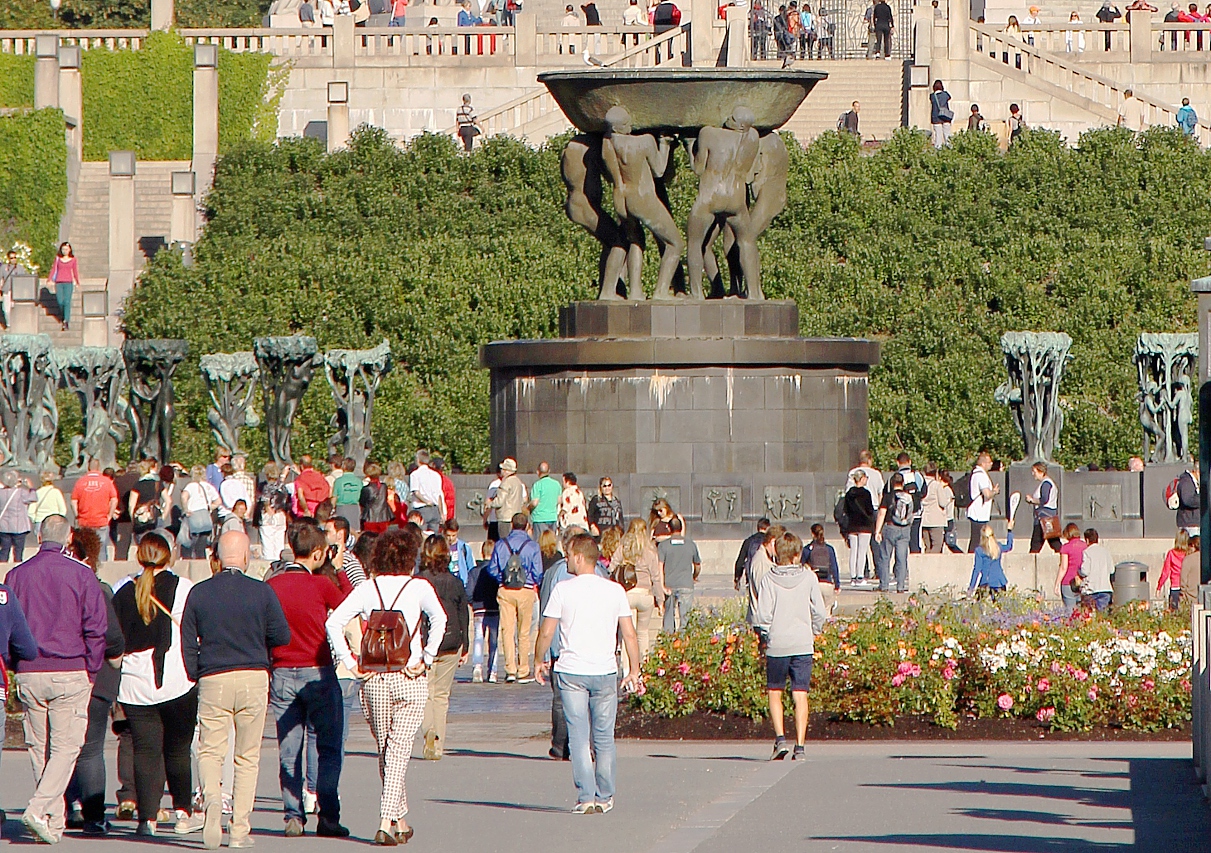 In 1924, the municipality gave the sculptor a building for a workshop on the territory of Frogner Park, here he found a place for the construction of his creation. The fountain became the center of the sculpture exhibition in the open air, on which Vigeland worked until the end of his life.
Six men hold the bowl of the fountain on their shoulders. According to the author's idea, it symbolizes the " burden of life".
Twenty bronze trees entwine human figures and represent all stages of human life.
Beginning of life, birth and infancy.
Teenage period.
Juvenility.
Dreams and flight of imagination.
Relationship between a man and a woman, creation of a family.
Maternity.
Wisdom of middle age.
Continuity of generations.
Transfer of life experience to grandchildren.
Senile infirmity and death.
Bas-reliefs on the pedestal also follow the theme of sculptural groups.
Most of the bas-reliefs depict the games of parents with children.
And in fact, if you think about it, a person's life takes place in one of these qualities, first as child, then as parent.
Vigeland produced 112 bas-reliefs, but here we can see only 60.
Depicting his characters among the branches of trees, the sculptor wanted to emphasize the inextricable connection between man and nature.
Part of the bas-reliefs depicts people in contact with the animal world.
In total, Vigeland worked on the fountain for more than 30 years.
However, the great sculptor did not see his creation in a complete form, the fountain was opened in 1947.
Around the fountain is a mosaic of white and black granite with an area of 1800 square meters. The mosaic pattern forms a labyrinth, the length of which is more than 3000 meters.